Flutes in France gives adult flutists the opportunity to explore every aspect of flute playing. Elisabeth Parry's adult flute courses in France focus on progress, development, and music-making, all enjoyed in a convivial, supportive atmosphere in a beautiful location. The daily timetable includes one-to-one tuition and coached piano rehearsals, technique workshops, flute ensemble, chamber music, individual practice time and informal play-togethers. There are opportunities to play – and enjoy others playing – in a number of concerts, with a final concert held in the beautiful church of Saint-Eutrope in Allemans.
This course is for adult flute players of all ages, of around Grade 5 to Diploma standard (and beyond), who want to improve their skills, grow in confidence, make music with others, and discover new fluting inspiration to take back to their daily practice. Flutes Inspired flute courses in France are kept deliberately small to ensure individual attention and a warm and encouraging environment.
Classes are individually tailored to your needs, so you can bring along anything from dodgy scales to your next concerto. Many of our participants meet up once home again after the course to play duets and trios, and carry on the Flutes in France experience. You will go back with new flute friends and your fluting motor recharged!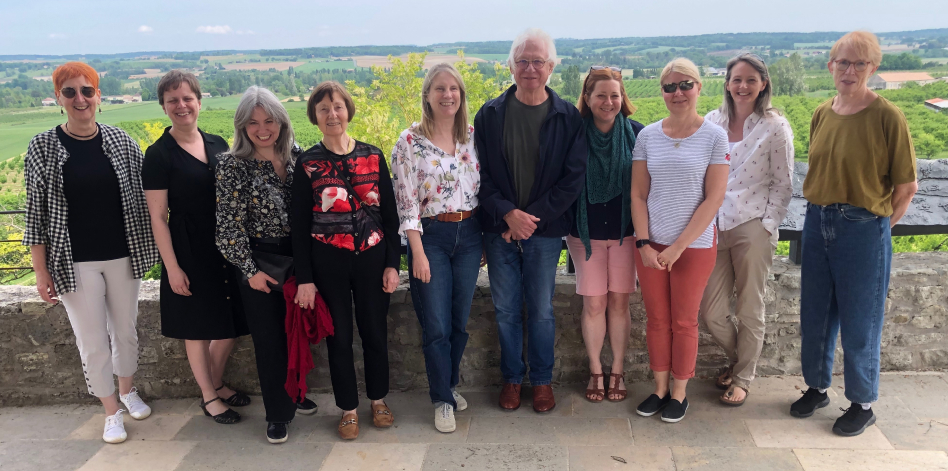 Elisabeth has a passion for working with enthusiastic, committed adult flute players, helping them to develop the technical skills and musicianship they need to become excellent players and confident performers.
Elisabeth is a sought-after coach and conductor of adult amateur ensembles and orchestras around the UK, as well as lecturing in adult flute performance at CityLit in London. She has directed many international courses for adult flute players in Italy, Spain, France, and Australia. In the UK, she is a frequent tutor at Benslow Music in Hertfordshire, Hawkwood College in Gloucestershire, and at the Harrogate Flute Summer School. She is a regular a guest artist at festivals in the UK, Netherlands, Australia, and France.
Elisabeth works in collaboration with pianist John Alley, formerly Principal Keyboard of the London Symphony Orchestra. John's warm and sensitive accompanying and coaching skills are the perfect match for the supportive and friendly atmosphere of Flutes Inspired courses. In 2020, Elisabeth and John decided to create a studio of their own in France, where flute players could gather to learn and play in a venue equipped with its own concert grand piano and extensive music library – and enjoy l'art de vivre French-style. That vision has become Flutes in France.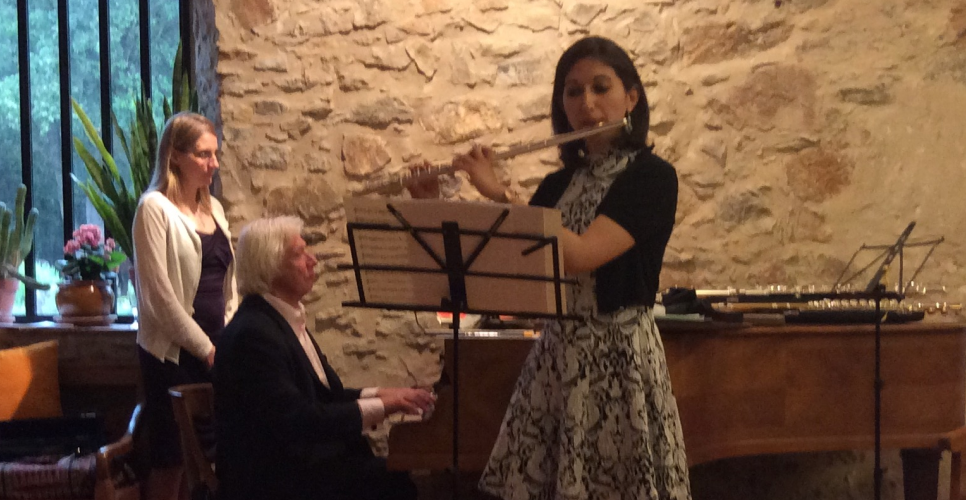 Pre-course Zoom meeting to chat about what you would like to achieve, problem areas, and repertoire. Flute ensemble repertoire sent out 6 weeks before the course starts to give plenty of time for preparation.
Airport and train station transfers are provided for participants travelling to/from Bergerac or Bordeaux. 
Welcome apéritif followed by dinner with Elisabeth and John. A chance to get to know each other and chat about the week ahead. And of course a little light fluting!
Full group sessions start at 10.00 with warm-ups followed by technique workshop.
Flute choir session followed by refreshments
Chamber music followed by lunch together
Varies day by day but includes chamber music with piano/coaching, collaborative lessons and performance class, flute ensemble
There is also some free time for individual practice and informal duets and trios, or individual work with John
In the evening we enjoy a glass of wine and dinner together, and the day concludes with "Party Pieces" – a chance to perform a solo or chamber item in a very relaxed and informal atmosphere.
There is a tutor concert on Tuesday evening and the final course concert is on Thursday evening in the Eglise de Saint-Eutrope in Allemans.
In addition, we enjoy a couple of meals in two excellent local restaurants, one of which grows its own organic produce for use in the kitchen.
Individual lessons and piano sessions are scheduled during throughout the day.
The Flutes in France studio is in the beautiful medieval village of Allemans-du-Dropt, situated on the banks of a peaceful river in southwest France. The village is surrounded by vineyards, orchards, and chateaux, and the region is famed for its food and wine, with local delicacies (depending on the season) including cepes, foie gras, and oysters from the Bay of Arcachon. Local wines come from the AOC Côtes de Duras, Bergerac, Marmandais, and of course, from the esteemed vineyards of Bordeaux.
Allemans-du-Dropt is easily accessible from both Bergerac and Bordeaux airports, or by train to Marmande on the TGV line between Bordeaux and Toulouse. Airport transfers are included for participants arriving on the recommended flights into/departing from Bergerac. Elisabeth is happy to advise on travel arrangements for anyone arriving from further afield or by alternative means of transport.
Accommodation is in the unassuming but pleasant hotel, L'Etape Gasconne, in the village, just a minute's walk from the Studio. Ensuite rooms are around £50 per night, and there are twin rooms available for a little more if you would like to share with a friend to keep costs down. Participants are responsible for their own accommodation at L'Etape Gasconne, or any alternative accommodation, and should make their own bookings. Elisabeth is happy to offer advice and assistance.
Refreshments, lunch, and dinner, including wine, are included in the course fee. Lunch at a local restaurant and a final celebration dinner at L'Etape are also included. Partners are welcome and join us for meals, concerts and other social activities. There is a small additional charge for partners to cover meals and transport costs.